How do I know when my wipers need to be replaced?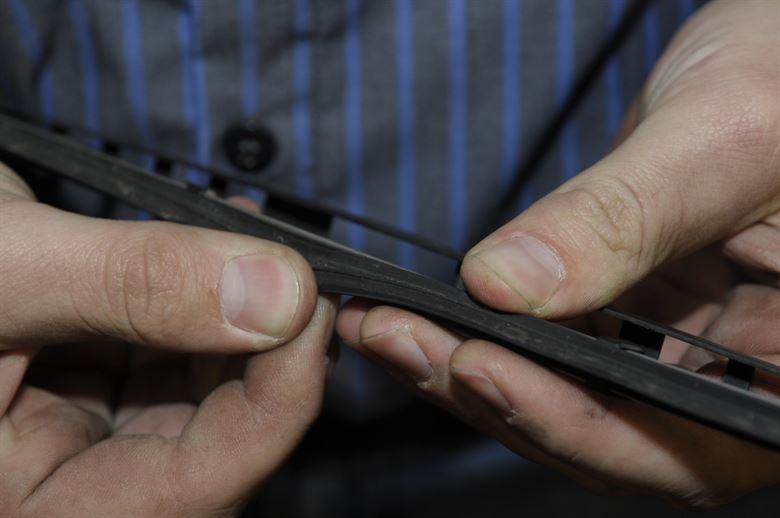 You never really notice them until you use them, but windshield wipers make safe driving possible. In order to have correct car vision, wipers need to work every time you turn them on. It is for this reason that the service experts at Nissan of Canton want to share with our customers everything we know about windshield wipers including how you'll know when it's time to replace them.
The Basics
What has become a complex and high-tech feature on all modern cars, trucks, and SUVs were born from the ingenious mind of Mary Anderson. This talented inventor from Alabama patented the first windshield wipers in 1903 and referred to them as "window cleaning device for electric cars and other vehicles to remove snow, ice or sleet from the window." As with many breakthroughs, it took a while — 10 years to be exact — for wipers to become standard on most cars. Over the years, others improved on the initial design including intermittent wipers (1923), hydraulically driven wipers (the 1960's), rear wipers (the 1970's), and rain-sensing wipers (1996).
Here's a fun fact: it was another woman, Charlotte Bridgewood, who patented the automatic wiper in 1917.
Types of Modern Windshield Wiper Blades
There are a number of different types of modern windshield wiper blades. The most popular are the classic frame-style wipers. These traditional blades have a metal framework on which the actual rubber or halogen-hardened rubber blades are attached. For the colder months, you can get winter wipers that are specially designed to keep you're the blades ice and snow-free. Finally, there are premium beam-style wipers that don't have the metal framework of traditional wipers. These one-piece blades conform to your window's curvature and are often made of silicone or double-rubber.
How To Tell When to Replace Your Wipers
It is important to constantly inspect your windshield wipers, especially during periods of harsh or wet weather. When looking at your blades you need to check for broken frames, metal corrosion, and cracks and tears. If you notice any of these or rounded wiping edges, it's time to replace them. Another way to decide if your blades are due for replacement is how they perform. Some of the more usual problems include streaking from dry and cracked blades or wipers that bounce when in use. These problems can be caused by foreign substances collecting on the blades or from a lack of use. We suggest cleaning your windshield every time you fill-up and making sure to run your wipers while using cleaning fluid even during dry times.
How Nissan of Canton Can Help
Like every other part of your vehicle, maintaining your windshield wipers should be a major aspect of your car care routine. The Service Center at Nissan of Canton can help with easy and affordable services that include finding the right parts for your particular model and trim level. To learn more, or to schedule an appointment, feel free to contact Nissan of Canton today!